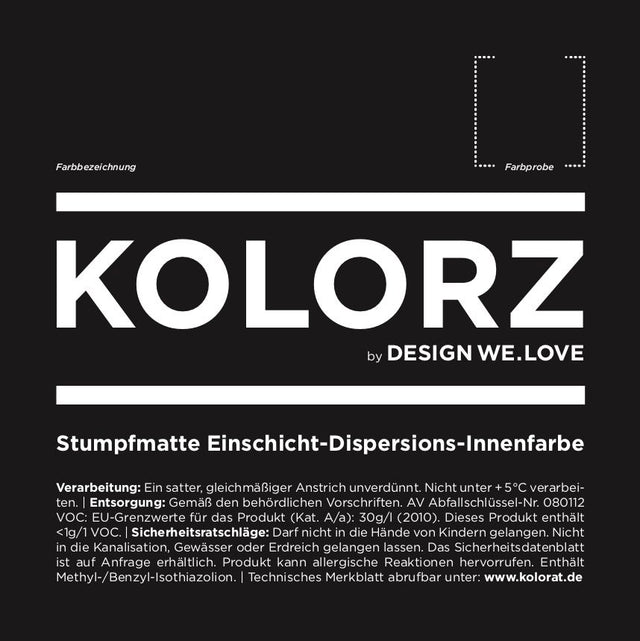 Design: Design We.Love
Color is the most important thing in our lives and this also includes painting the home in the appropriate shades. KOLORZ shows you different colors that combine comfort and trend. In cooperation with Kolorat, we bring selected color nuances to the wall.
The respective shade and the composition of the color pigments were developed by us and are only available in this wall color from Design We.Love!
Dull matt one-layer dispersion interior paint in 2.5L or 5L containers. The color will be mixed especially for you after ordering. 2.5L are sufficient for approx. 20sqm, 5L for approx. 40sqm of wall space.
The color is highly opaque and you should only need one coat. Processing: A rich, even coat undiluted. Do not process below +5ºC.
This product is made especially for you. A return or exchange is therefore excluded.
Price incl. statutory VAT plus shipping
From an order value of 59€, delivery is free of charge!
Delivery time immediately up to 3 days.
Disposal according to official regulations. AV waste key no. 080112 VOC: EU limit values ​​for the product (Cat. A/a): 30g/l (2010). This product contains <1g/1 VOC. Safety Advice: Keep out of the reach of children. Do not allow to enter drains, waterways or soil. Safety data sheet available on request. Contains methyl/benzyl isothiazole ion. Can cause allergic reactions.