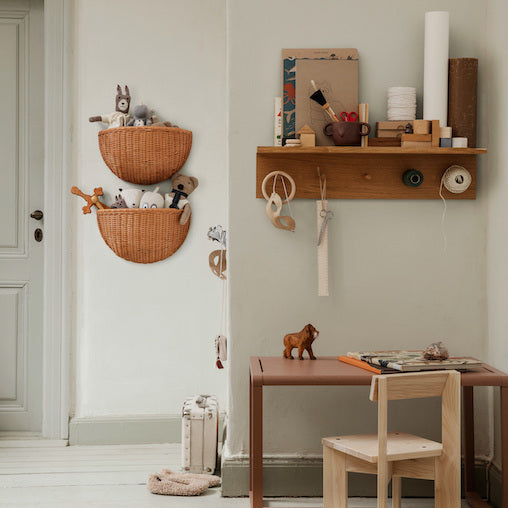 by fermLiving
Wall basket set of 2 Braided Wall Pockets - ferm LIVING
Design: ferm LIVING
Whether you're looking for a decorative way to store scarves in the entryway or toys in the children's room, the versatile Braided wall shelf is the ideal storage solution for keeping everyday items off the floor and tables. Hand woven from natural rattan, its distinctive, handcrafted expression brings a warm, inviting ambience to any type of space.

A rattan basket has a decorative look and gives a natural and warm interior atmosphere.
Size:
W: 45 x H: 41 x D: 18.5 cm
Individual Size: H : 29 x W :19 x L : 45 cm / H : 11.42 x W : 7.48 x L : 17.72 in. Wall mount not included. Maximum load: 5 kg
Care Instructions:
Wipe clean with a damp cloth
Please note:
This is a hand braided item. Small deviations may occur
Price incl. statutory VAT.
Free shipping!
Delivery time approx. 7 days