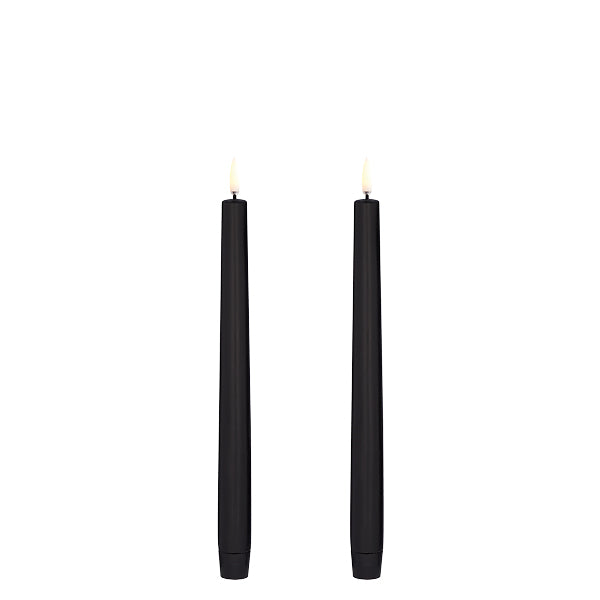 Design: Uyuni Lighting
The LED real wax taper candle set will inspire you immediately. Now you can use candles in wind and weather outdoors or leave the LED candles burning unattended. The deceptively real LED candles imagining absolutely lifelike candlelight with the integrated LED lights.
This opens up completely new design options for your facility. With the separately available remote control you can dim and program the candle. Would you like to sit in the candlelight in the evening and not think about the fire and the danger it poses? Then these LED candles real wax candles are exactly the right choice.
Thanks to their waterproof cover, they also work perfectly outdoors. How surprised will your guests be when they are welcomed to your dinner party with lifelike candlelight?
Thanks to the splash-proof finish, you can also use the candles in wet weather and display them in any commercially available candle holder in the garden, on the balcony or on the terrace.
A dimming function ensures the right lighting mood. The robust workmanship of the candles ensures long-lasting joy.
Outer shell material: pure paraffin wax
Size: 2.3*25.5cm
Color: Black
Unscented
Two candles in a package
Built-in 6 hour timer
Patent pending 3D flame
Requires 2 x AAA batteries (not incl.)
200+ hours of battery life

Can be controlled with the Uyuni remote control (sold separately):
4 x timer options: 4, 6, 8 and 10 hours
3-level dimmer switch

Please note that Uyuni real wax flameless candles should not be stored or used at temperatures below 1°C and above 35°C.
Price incl. statutory VAT plus shipping
From an order value of 59€, delivery is free of charge!
Delivery time 3-7 days.