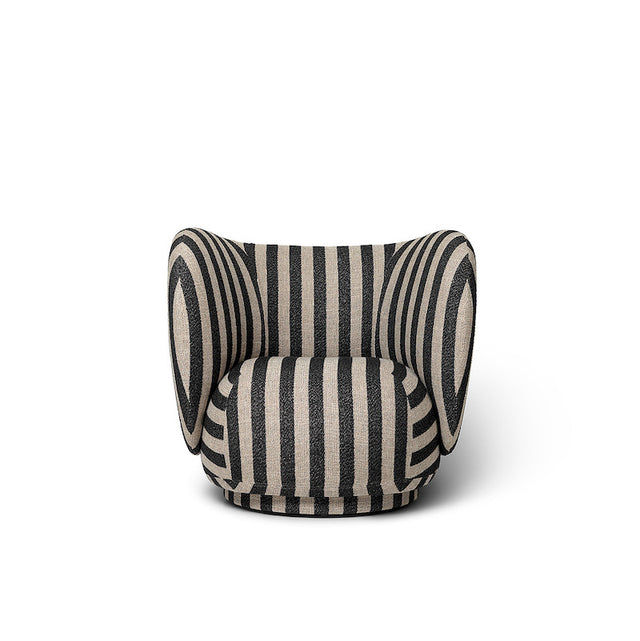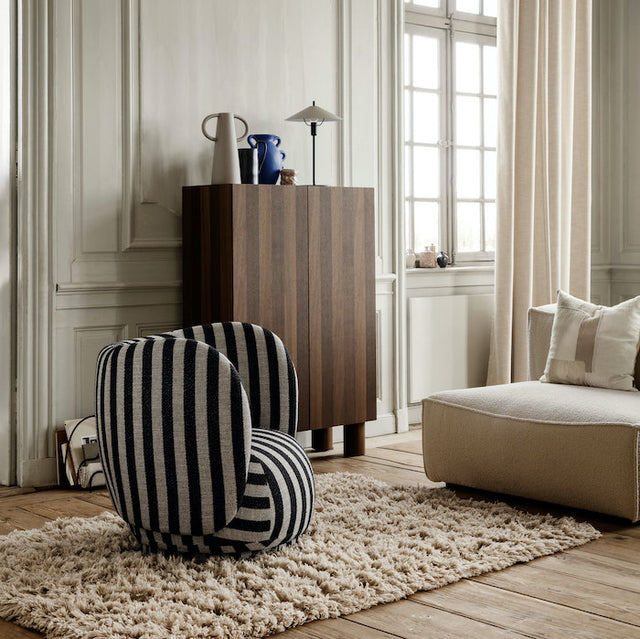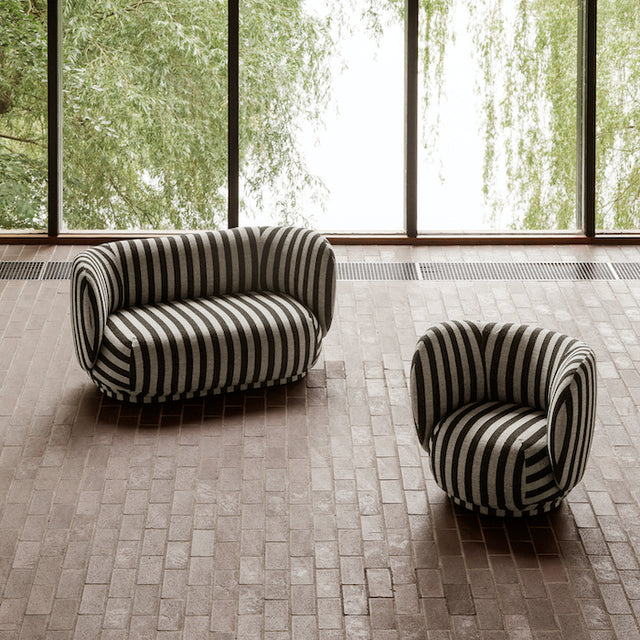 by fermLiving
Rico armchair Louisiana - ferm LIVING lounge chair
Design: ferm LIVING
The Rico lounge chair "Louisiana x ferm LIVING" is the result of a collaboration in modern Danish design. With its curved, comfortable shape, it literally invites you to enjoy a moment of stillness. Designed in collaboration with the Louisiana Museum of Modern Art, the clean and classic appearance of the striped fabric contrasts beautifully with the soft, sinuous curves of the Rico lounge chair.
The classic yet striking stripe pattern is inspired by the graphic lines and understated modernity of iconic Louisiana architecture, reminiscent of the wood slats and black window frames so typical of Louisiana, as well as the understated black/sand color combination. The texture of the linen-based fabric will fascinate your sense of touch.
The seating furniture is produced in the highest quality in Italy. A small family business in north-east Italy specializes in upholstered sofas, chairs and headboards. The craftsmen work almost exclusively with raw materials from Italy, and the upholstery of the exclusive Rico armchair for ferm LIVING is done entirely by hand.
Seat cover colour: Sand/Black
Size: W: 87 x H: 79 x D: 81.5 cm
Seat height: approx. 41cm, back height 38cm
Material: Fabric: Louisiana. 34% linen, 27% viscose, 17% polyester, 12% cotton, 8% wool and 2% other fibers. Backrest: Molded foam with internal steel construction. Seat: Molded foam with wooden construction inside. Feet: low density polyethylene
Price incl. 19% VAT
Free shipping.
Delivery immediately up to 3 days.
This item is part of our custom concept for bespoke items. Materials have been carefully selected to create this bespoke piece - the only one of its kind. Please note that this item cannot be exchanged or returned.